Sometimes it is hard to know where you are going if you don't know where you are.
Where in the United States are you?
This is a picture of the United States (hint: Alaska and Hawaii are NOT attached to the mainland).
Print this page and try to label as many states as you can, starting with the state in which you are now.
What state have you always wanted to visit?
Why are you interested in that state?
Go through the rest of this lesson to see what you can learn about the state of your choice.
Take notes for your report or brochure as you move from one site to another.
Keep track of the sites you visit by bookmarking or writing down the web page address at the top of your browser.
(Hint: The address for this page is http://literacy.kent.edu/Minigrants/Cinci/ticket/ticket3.html )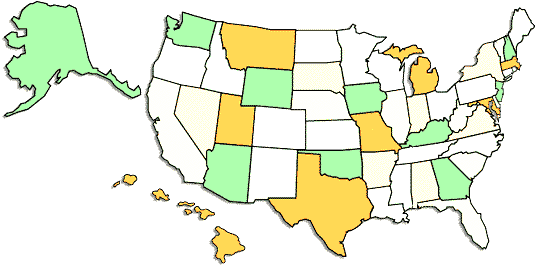 Back to Cincinnati Mini Grant Site Home
Back to Mini Grant Test Site Home
---
This page http://literacy.kent.edu/Minigrant/Cinci/ticket/ticket3.html
and is maintained by the OLRC Web Development Team.