You Can Master Noun Markers!
articles or determiners
Follow these lessons and learn how to use a, an, and the correctly.
These three small English words cause big problems for ESL students. Grammat books may call them articles or determiners, but all they really do is to let the listener know that noun is coming.
How do native English speakers think as they use a, an and the? There is a path of logic (really!) and this site will show you. Each sign post below is its own lesson, with basic, intermediate and advanced levels.
Later you can tackle noun markers with special nouns.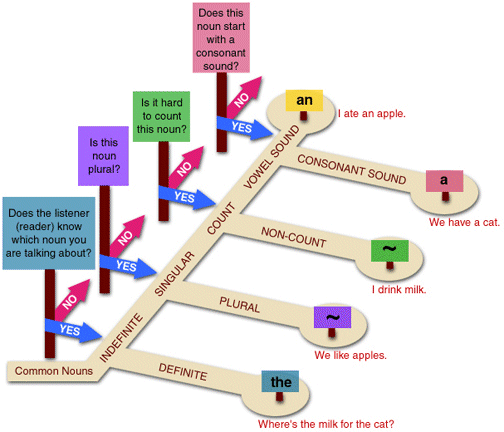 As you walk down the path of each lesson, you will learn GUIDELINES and do interactive practice pages.
| | |
| --- | --- |
| | When you master a whole lesson, click on this home page icon and come back to select another signpost. |
---
This page http://literacy.kent.edu/GTE2/alc/alcindex.html
and is maintained by the OLRC Web Development Team.