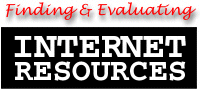 Search Engines, Subject Directories/Indexes & Multi/Mega Engines

Index words or terms in web documents

Are programs run on a particular web site

Search large portions of the Internet based on information that their "bots" retrieve or on information submitted by users who want their sites included in the search database

Spiders or robots are automated search programs that go through the web and search web pages for keywords. The information that bots return is used to match web pages to keywords and key phrases requested by users

Provide more complete search results of available pages on the web

Are usually smaller than search engines

Directories classify Web documents or locations into an arbitrary subject classification scheme

Are usually compiled by hand or in some type of logical order

Begin with a top-level subject and narrow topics to a specific website

Usually only include sites listed in a specific database

Indexes like Yahoo only search their own databases, not large portions of the web like search engines

Provide limited search results of available pages on the web

Doesn't create its own database of information

Searches the databases of other engines

Allows the user to search several search engines simultaneously

Search databases of other search engines
**Information located from subject directories/indexes will not be as wide as the information located from a search engine. However, the information collected from subject directory/index will contain more specific information dealing with a particular subject matter. Search engines provide a larger amount of possibilities; subject directories/indexes findings are narrower.




Fast Facts on Literacy (Refresh to see another fact)


This page http://literacy.kent.edu/Oasis/Workshops/FindEval/engines.html
and is maintained by the OLRC WWW Development Team.