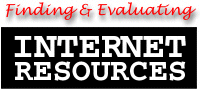 Additional Resources and Information on Searching

Learning More about Search Engines and Subject directories FAQ's
http://www.cln.org/searching_faqs.html
A complete and detailed set of frequently asked questions on using Internet search engines and subject directories

The Amazing Internet Guide
http://www.sunstorm.com/amazing/
The Amazing Internet Guide is a wonderful site that contain information on over 20 search tool and provides subscription and key techniques needed for each tool

Searching the World Wide Web: Overview
http://owl.english.purdue.edu/owl/resource/558/01/
"The World Wide Web is a superb resource, but it doesn't contain all the information that you can find at a library or through library online resources. Don't expect to limit your search to what is on the Internet, and don't expect search engines to find everything that is on the Web."




Fast Facts on Literacy (Refresh to see another fact)


This page http://literacy.kent.edu/Oasis/Workshops/FindEval/information.html
and is maintained by the OLRC WWW Development Team.