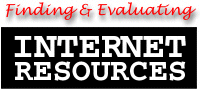 Searching Techniques/Strategies
A wildcard is a special character that can be added to a phrase while searching and the search engine/directory looks for all possible endings. The results will provide all possible documents in their database that have those letters.
For example:
"autom*"results: automatize, automobile, automatic or automotive
"educat*"results: educator, educators, education or educational
"profes*"results: profess, professor, profession, professional or professionalism

Boolean Phrases

Technology AND Computers
Results: locate all documents in the databases that have both of these words

Technology NOT Computers
Results: will provide a list of links that has the word "technology" in the document but will not include any document that has the word "computers" in the document

Technology OR Computers
Results: will provide a list of links that has the phrase technology or computers in the document

Technology AND Computers NOT Internet
Results: the sites that have "technology" and "computers" but not "Internet"

Technology NEAR Computers
Results: one term must be located within a certain number of words
Nesting Allows the user to perform multiple tasks:

Technology AND (Internet OR World Wide Web)




Fast Facts on Literacy (Refresh to see another fact)


This page http://literacy.kent.edu/Oasis/Workshops/FindEval/techniques.html
and is maintained by the OLRC WWW Development Team.